Lt. Cecil Glenn Foster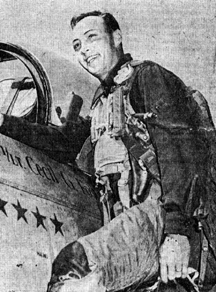 Cecil Glenn FOSTER is the son of Christian Everett FOSTER, brother to Eva Inez FOSTER Niswonger, my paternal grandmother.
He was born August 30, 1925, in Midland County, Porter Township, Michigan. Following graduation from Midland High School in 1943, he immediately enlisted in the U.S. Army Air Corps Aviation Cadet program and in 1945 was commissioned 2nd Lieutenant. He also married Margaret Mary FRAZER in that year. He served a combat tour in Korea from 1952-1953 and became America's 23rd Ace pilot.
He also served a year-long combat tour in Viet Nam as fighter squadron commander. He amassed 365 combat missions and 65 medals and awards. He served 32 years before retiring as Lieutenant Colonel in 1975.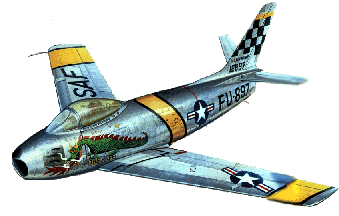 Captain Foster flew the North American F-86 Sabre (1949) which was one of the classic jet fighters of all time. The Sabre seen here flew with Captain Foster's wing, the U.S. 51st Fighter-Interceptor Wing in Korea.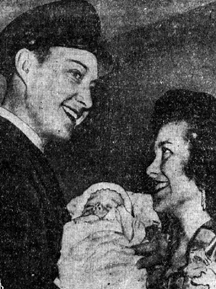 This Picture and following articles were published in the Midland paper at the time the Lieutenant Foster came home from Korea. The caption on the picture picture reads "BABY SCORES HIT WITH JET ACE - Lt. Cecil G. Foster, Korean war jet ace, grins happily in his San Antonio, Tex., home as he holds for the first time his two-month-old son, Ronald. Happy, too is his wife, Margaret, as they are reunited. The Fosters have three other sons. The lieutenant had nine enemy kills to his credit when he left Korea for home."
Another article around the same time, entitled 'STATE'S TOP JET ACE RETURNING FROM KOREA' reads as follows:
MIDLAND- Capt. Cecil G. Foster, Michigan's top jet ace in Korea, is coming home.
The Sabre jet fighter pilot has completed his 100 missions during which he bagged nine Communist MiGs and damaged two others and is now en route back to the United States. While Capt. Foster, son of Mr. and Mrs. Christain E. Foster, of Midland, bemoaned his failure to become a double ace with 10 kills, his family was jubilant over his successful tour of duty.
Even Foster himself was happy to be on his way home, according to dispatches from the Korean front. He was quoted as saying, "Ten kills would have made me feel good, but not as good as going home. I'm satisfied to leave it at nine and get home."
Foster is tied for third among Korean aces. He is expected to go first to San Antonio, where his wife and four sons have been staying with his in-laws and then come to Midland to visit his parents, brothers and sisters and several aunts and uncles. Foster was in Midland last spring shortly before he was sent overseas in June. ...(special to the Free Press).
Another article headlined 'TWO JET ACES WITH 4-DAY BAG OF EIGHT COMING HOME' reads as follows:
Seoul-AP- Two American jet aces who shot down eight MIG's in four days are scheduled to start home Tuesday. Capt Cecil Foster, leading jet ace still in Korea, and Capt Dolphin Overton III, who reached ace status in the shortest time on record, have completed their combat tours of 100 missions.
Foster and Overton are jet aces Nos. 23 and 24 of the 25 pilots who have reached that status in Korea. Overton had flown 145 missions in fighter-bombers and Sabres before scoring any MIG'S. Then in four missions, Wednesday, Thursday, Friday and Saturday he downed five MIG's and damaged another. A pilot becomes an ace when he has destroyed five enemy planes.
Foster destroyed nine MIG's and damaged two. He downed one and damaged two Thursday and downed two more Friday. Both men flew Sabres with the 51st Fighter Wing.
"I'm glad it's over," said Overton. "I want to go back home to Andrews, S.C. for a rest."
Overton was the first man from South Carolina to down a MIG in Korea.
Foster after downing his ninth MIG Friday said he wanted to make "double ace." But today he said: "Ten kills would have made me feel good, but not as good as going home. I'm satisfied to leave it at nine and get back to my wife and kids."
Foster's wife, Margaret and four children live at San Antonio, Tex. He is the son of C.E. Foster, Midland, Mich.
Foster's MIG score ties him with Lt. James Low of Sausalito, Calif., for third high among Korea aces. Low has returned home.
The highest score -- 11 MIG's and three TU-2 bombers destroyed--was turned in by Major George A. Davis, Jr., Lubbock, Tex., who has been missing in action since last February.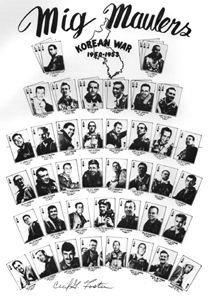 Time-Life has acknowledged Cecil's efforts in the Korean war in their series 'The Epic of Flight', Book "Jet Fighters". This picture is a reproduction of photographs of the 39 American aces of the Korean War arrayed as playing cards.
But little is known about the fact that he was almost the cause of the restarting of the war between the north and south. Cecil was born in Michigan, but married a Texan. And as his notariety grew, more and more stories in papers hailed him as a native Texan.
This did not set well with many Michiganders, my mother and father included. Below is a letter to the editor that they wrote to the Flint Journal:
HAS RELATIVES HERE--We feel that perhaps Journal readers might like to know that news of Sabrejet Pilot Capt. Cecil G. Foster is of particular interest to some folks around Flint. This is true since Mrs. Inez Niswonger, Mrs. Odessa Casner, Mr. Ommer Foster and Ryan Foster, all local residents are sisters and brothers of his father, Mr. C.E. Foster of Midland, and several cousins also reside in this area.
Capt. Foster's mother died of polio when he was five years old and he then went to live with his paternal grandparents the senior Mr. And Mrs. Christian Foster of Mt. Pleasant. There in the modest farm home he was taught loyalty to God and country and that one, without fail, accomplished the task at hand. Seems as though he still looks at things that way in the grand manner in which he has carried out his missions over in Korea.
Even though he now hails from Texas, since he met and married the little southern gal from San Antonio, we want folks to know that we're right proud of our Cecil and that he belongs a little bit to us.
Mr. and Mrs. Larry Niswonger
Which in turn sparked this article in the Flint Journal:
(This was under the picture at the top of the page that was captioned 'Lt. Cecil G. Foster Michigan ace rustled by Texans")
TEXANS GO TOO FAR, CLAIMIN' OUR AIR ACE
Folks in Midland Real Hot Over Rustlin' of Their Boy
by Miller Hollingsworth
Free Press Staff Writer
Pull in your Longhorns, you bragging Texans. Take your maverick brand off our Michigan hero. You have been caught redhanded rustling Korean War air aces.
The headlines look very nice reading "Texan Bags 5th MIG to Become Ace."
Only he was no Texan. He was Lt. Cecil G. Foster of Midland, Mich., suh. He got his sixth MIG later.
And the good people around Michigan are pretty unhappy finding their Cecil in your corral. In fact, they want to start a stampede.
We Michiganders never were impressed with your bragging. There always was a suspicious ring to some of your claims such as taking in all the land between the Great Lakes and the Gulf of Mexico.
Nor were we bowled over by your Texas heroes of doubtful authenticity.
We have gone along with your history in accepting Sam Houston, David Crockett, Stephen Austin, Sam Bowie and a few other adventurers as doing some pretty good work around the Alamo and other Lone Star State shrines.
But, pardners, now you have overstepped your bounds.
You have grabbed our Lt. Foster and he's not your'n. He's ours and keep hands off! Touch not a hair on our hero's head.
Cecil Foster was born and reared at Midland the son of Mr. and Mrs. C.E. Foster. He was graduated from Midland High School in June 1943, and entered the Air Force the following September.
He'd never seen Texas until Uncle Sam sent him to San Antonio for training. See, we're just showing up your phony claim to our Cecil.
Cecil, like so many of us Yankees, met and fell in love with a honey-mouthed and purty Texas gal. He was so carried away with her Southern charm that he married her.
When Lt. Foster was sent overseas last June his wife, Margaret, and four children returned to San Antonio to live.
Because he gave his wife as next of kin, Texas has claimed him as a real Texan. How come?
Cecil doesn't want to be called a Texan. He has frequently written his family objecting and has sought to have himself described as a Michigander.
His sister, Mrs. George E. Hoyle, of Midland, is particularly unhappy about it.
Foster is a real hero - the Michigan kind.
He has already racked up six Red MIGS and is the only American ace to drop two MIGS with one burst of his Sabrejet guns. They were his second and third planes.
Lt. Foster is third high man for his 51st Wing. Col. Frances Gabreski, former commander of Selfridge Air Force Base, and a Maj. Adams each had 6½ kills.
Foster has only 12 more missions to complete his 100 and expects to be back home -- Michigan that is -- in February.
He's ours, so you glory grabbing Texans look to your own heroes and keep your bragging hands off our Cecil.
Of course, Texas did have their own bragging rights, as Major George A. Davis, Jr. from Lubbock, Texas held the all time record.
Last account had Cecil and his wife Margaret living in Henderson, Nevada, enjoying the retired life, in the country he helped make safe from the enemy's harm.
Our generation thanks you, Cecil. Without you and other men like you, we could not sleep so safely in our beds at night. Thanks, cousin.