Lt. General James Longstreet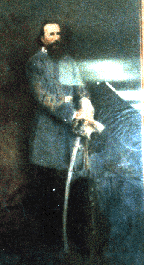 Although it is not completely clear to me at this time what the relative connection is, long-time family history has proudly passed down the information that I am related to this proud Confederate officer. Further research indicates that he was a distant cousin, the descendant of one of four brother that immigrated to New Jersey from Holland. I am a descendant of one of the other brothers.
James Longstreet was born on January 8, 1821 near Edgefield, South Carolina. He died in Gainesville, Georgia on January 2, 1904, just short of his 83rd birthday. He is buried in Alta Vista Cemetery in Gainesville, Georgia.
He was appointed to the US Military Academy and graduated as a 2nd Lt. in 1842. He served in the War with Mexico before his celebrated part in the Civil War.
I could continue with more historical facts on this great man, but it would only be repeating information gathered from a most remarkable source, The Longstreet Chronicles, web page of Brian Hampton. So I encourage you, after finishing here, to make the journey to the ultimate in biographical information about James Longstreet. You will learn more there than I could ever cover here, and in a great format. Tell him I sent you.
Below are some pictures of and about James Longstreet that I have gathered, that I am very proud of.
Part of Display for Proposed Monument at Gettysburg National Military Park
| | | |
| --- | --- | --- |
| | | |
| Photo At Model Site | Proposed Monument Site | Proposed Monument |
| | |
| --- | --- |
| | |
| Official Civil War Portrait | His Final Resting Place |
---
Copyright © 1997-2001 WebsByLois Last updated on Wednesday, July 04, 2001