Descendents of Dr. Elton Jenard RASURE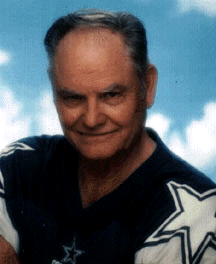 FIRST GENERATION

1. Elton Jenard RASURE was born on JUL 29 1922 in Dike, Hopkins County Texas. He attended most of his school years at Dike School, but transfered the last six weeks of his Junior year to Sulphur Springs High School. Dike at that time was not accredited to be able to give high school graduate certifications. He graduated in JUN 1940 in Sulphur Springs High School, Sulpher Springs, Hopkins County, Texas. He graduated in DEC 1949 in Texas Chiropractic College, San Antonio, Texas. He practiced in Dallas, Texas for 20 years and then in Grapevine, Texas for 10 years. He is now semi-retired and practicing out of his home in Dike, Texas after practicing for 12 years in Sulphur Springs, Texas.
He married Billie Marie LONGCHART.
2. Billie Marie LONGCHART.
They had the following child:
i. Michael Rasure((3))
On November 3, 1984, he married Lois Virginia NISWONGER Smith Rasure. They have no children.
DESCEDANTS BY GENERATION
---
Copyright © 1997-2001 WebsByLois Last updated on Saturday, July 21, 2001